Sometimes life can get messy! Work can be stressful, relationships start and end, loved ones pass away—transitions happen. We have clients who come to the Counseling Center at Heritage for a variety of different reasons and our therapists pride themselves on their ability to work with a diverse range of life circumstances. Having a therapist allows you to delve into your inner thoughts with a compassionate and understanding guide. Our therapists want to help you find solutions, but we know that life is complicated and things are not black and white. We want to help you find coping mechanisms to help get you through. The relationship you form with your therapist is premised on meeting you where you are and taking you where you desire to go.

Talk Therapy: This is the most traditional form of therapy where you sit and talk with the counselor about the challenges you are currently facing.
Expressive Arts Therapy: This type of therapy works well for individuals who like to use creativity as an outlet to address issues in their lives. Expressive arts is a unique method of therapy that can encompass the use of sandtray, movement, art, crafting, writing, music, and more.
Sandtray Therapy: This type of therapy uses sand and miniatures to create visual representations to assist in  processing events and difficulties. The sandtray often acts as a reflection of the individual's life and allows one to gain insight in a visual way.
Take a look at one of our adult rooms!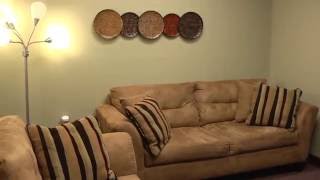 To make an appointment please call (215) 997-7772 or email us at info@counselingatheritage.com